The cost of diabetes care
37.3 million
people in the U.S. have diabetes1 
$237 billion
is spent on diabetes care annually in the U.S.2
1 of every 4
dollars in U.S. health care is spent on diabetes care2
$5,876
is spent annually on a person with diabetes complications2
The burden of diabetic foot ulcers and amputation
A diabetic foot ulcer (DFU) is a wound or sore on the foot of a patient with diabetes. Oftentimes, they are slow to heal or fail to heal without medical intervention. These ulcers are responsible for protracted courses of care that often involve multiple office visits, cause more hospitalizations than any other complication of diabetes,3 and can lead to infections that result in lower-extremity amputation (LEA) of toes or the entire foot.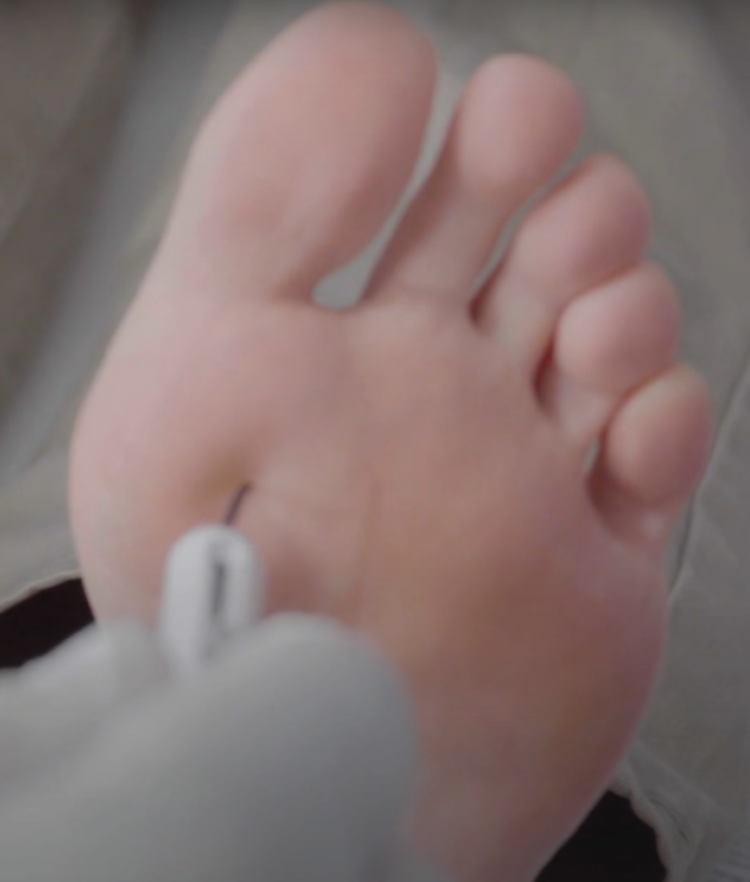 Diabetes directly cost $237 billion in the U.S. with one-third of these direct costs due to foot disease⁴
60%
of people with diabetes develop neuropathy that can lead to a DFU5
49%
of people with a DFU experience recurrence in the first year6
85%
of diabetes-related amputations are preceded by a DFU7, and can be avoided8
$53,779
is the average cost of inpatient care for a major amputation per patient9
Clinical outcomes through preventative measures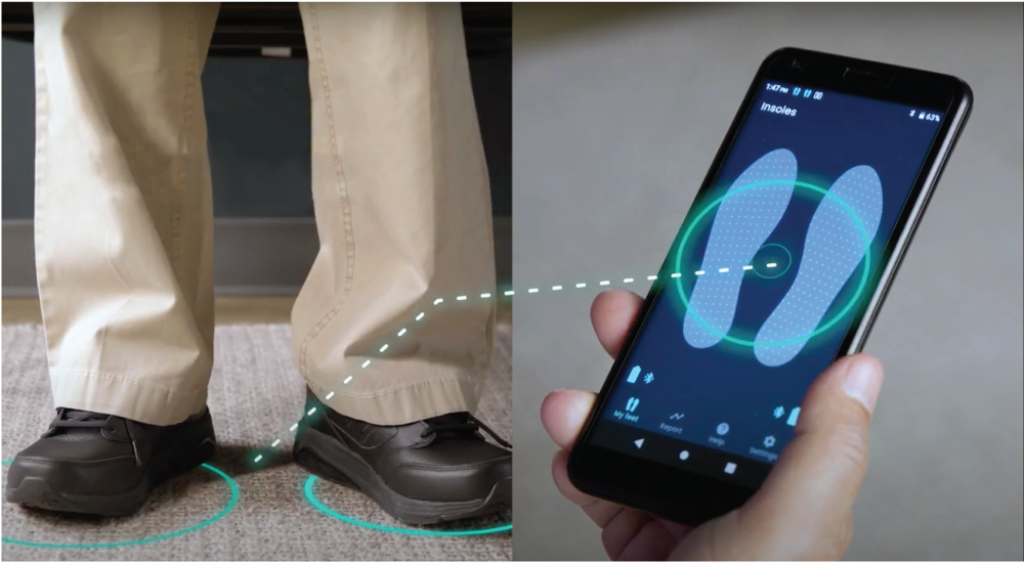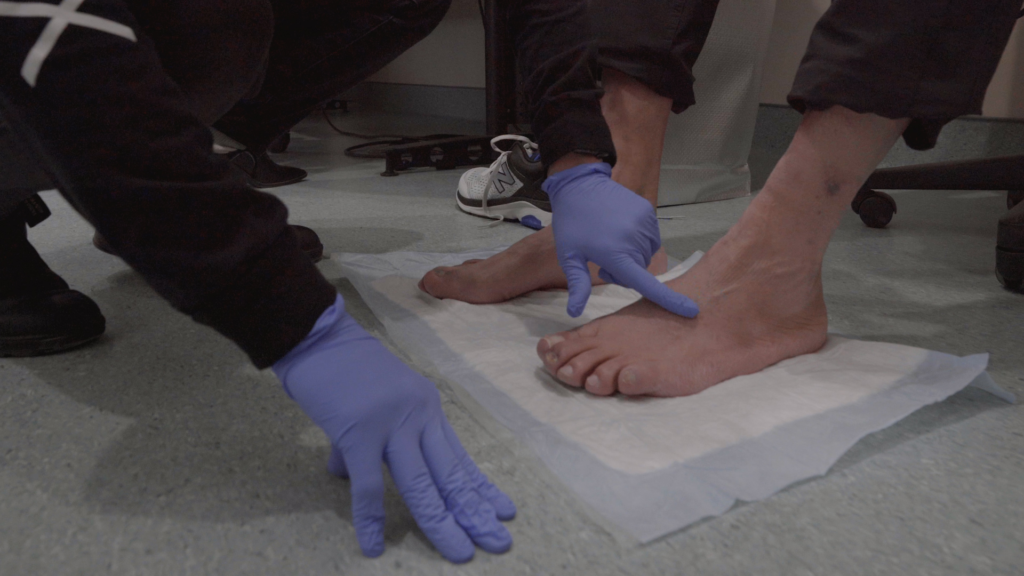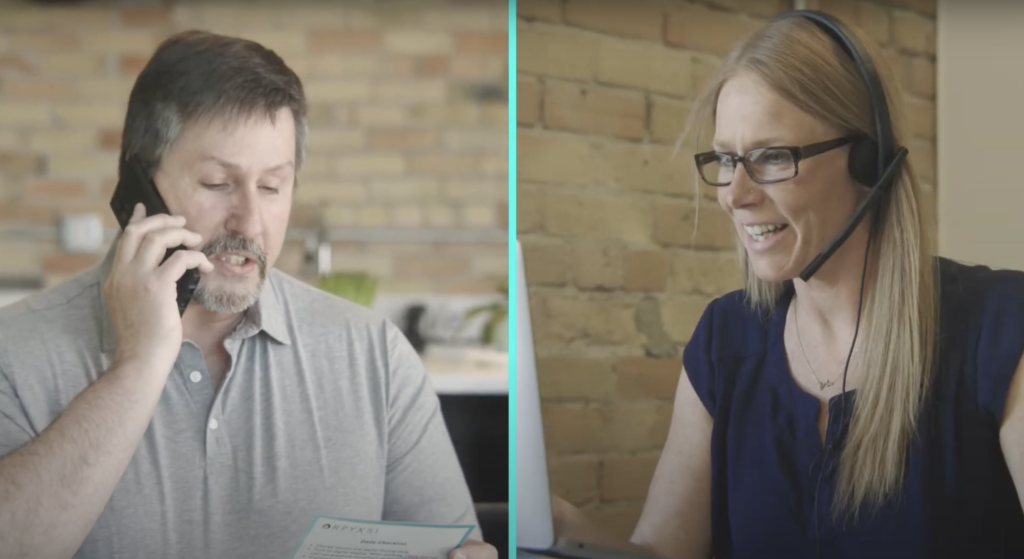 Reduction in DFU Recurrence
The Orpyx SI Sensory Insole system captures the most robust plantar data set including pressure, temperature, adherence, and step count.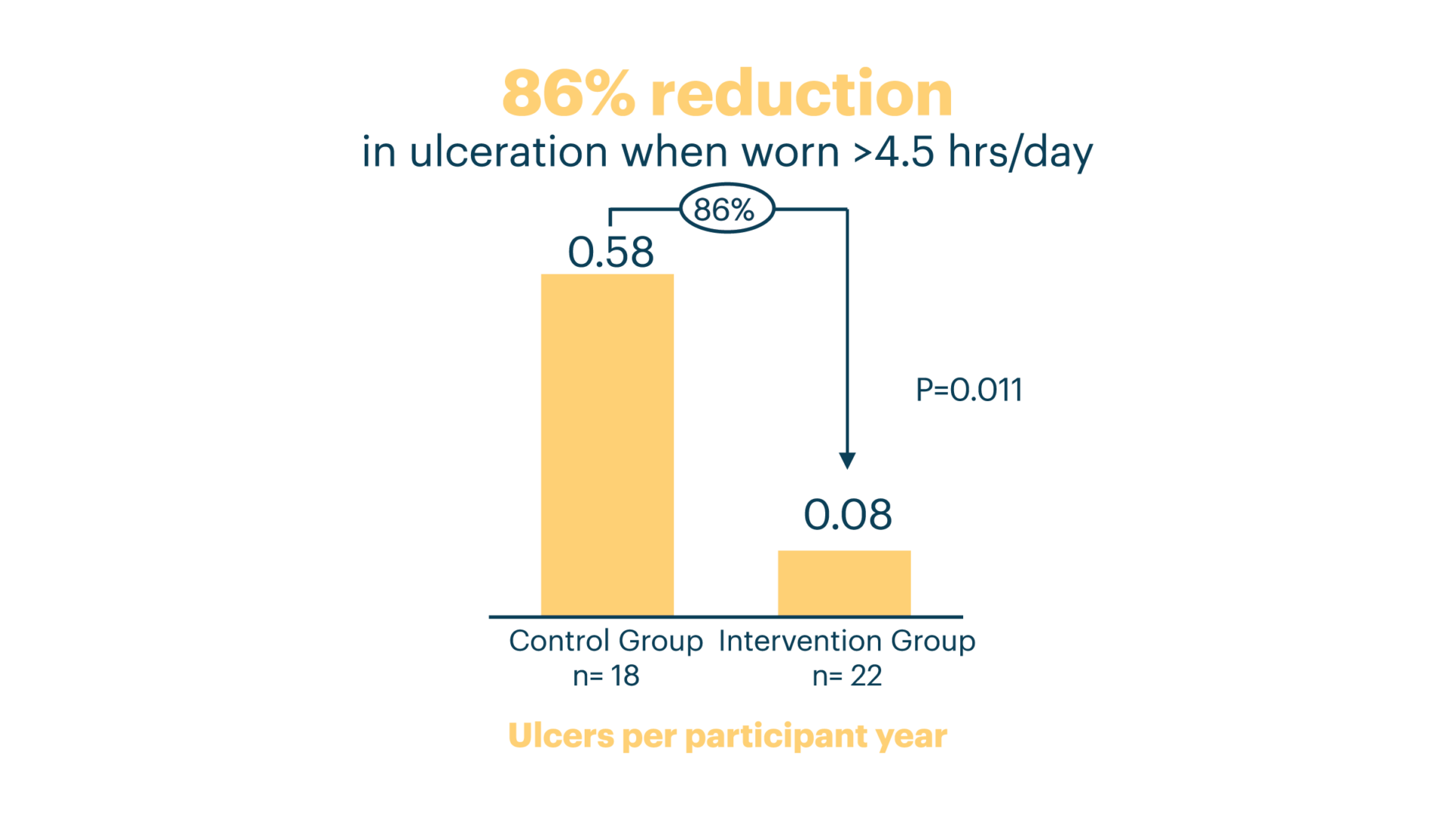 Randomized controlled trial showed an 86% reduction in DFU recurrence compared to control*¹⁰
This research reports when patients with diabetes and a previous history of a healed foot ulcer receive high pressure audiovisual alerts through a sensory insole system; there is a significant reduction in diabetic foot ulcer incidence. In an exploratory analysis of good compliers defined as those wearing the insoles 4.5 hours or more a day (n=40), ulcer incidence was reduced by 86% in the intervention group versus control group.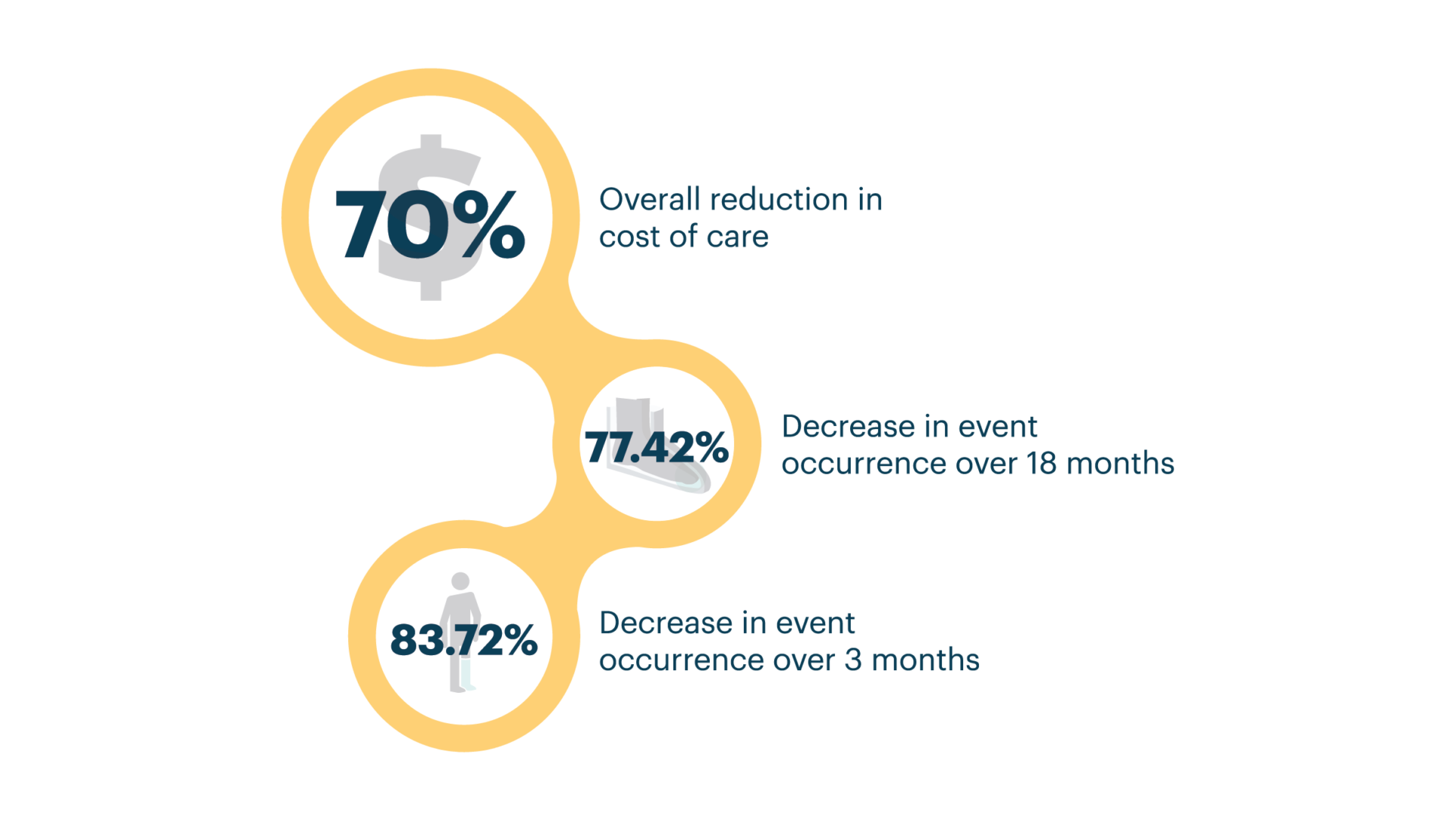 A peer-reviewed study showed substantial savings to the healthcare system, and drastically decreased event occurrences¹¹
These results reflect an 84% decrease in event occurrence over 3 months, a 77% decrease in event occurrence over 18 months, and a 70% overall reduction in cost of care. While the sample size was small, it is a positive indication that proactive pressure monitoring can prevent diabetic foot ulcer formation.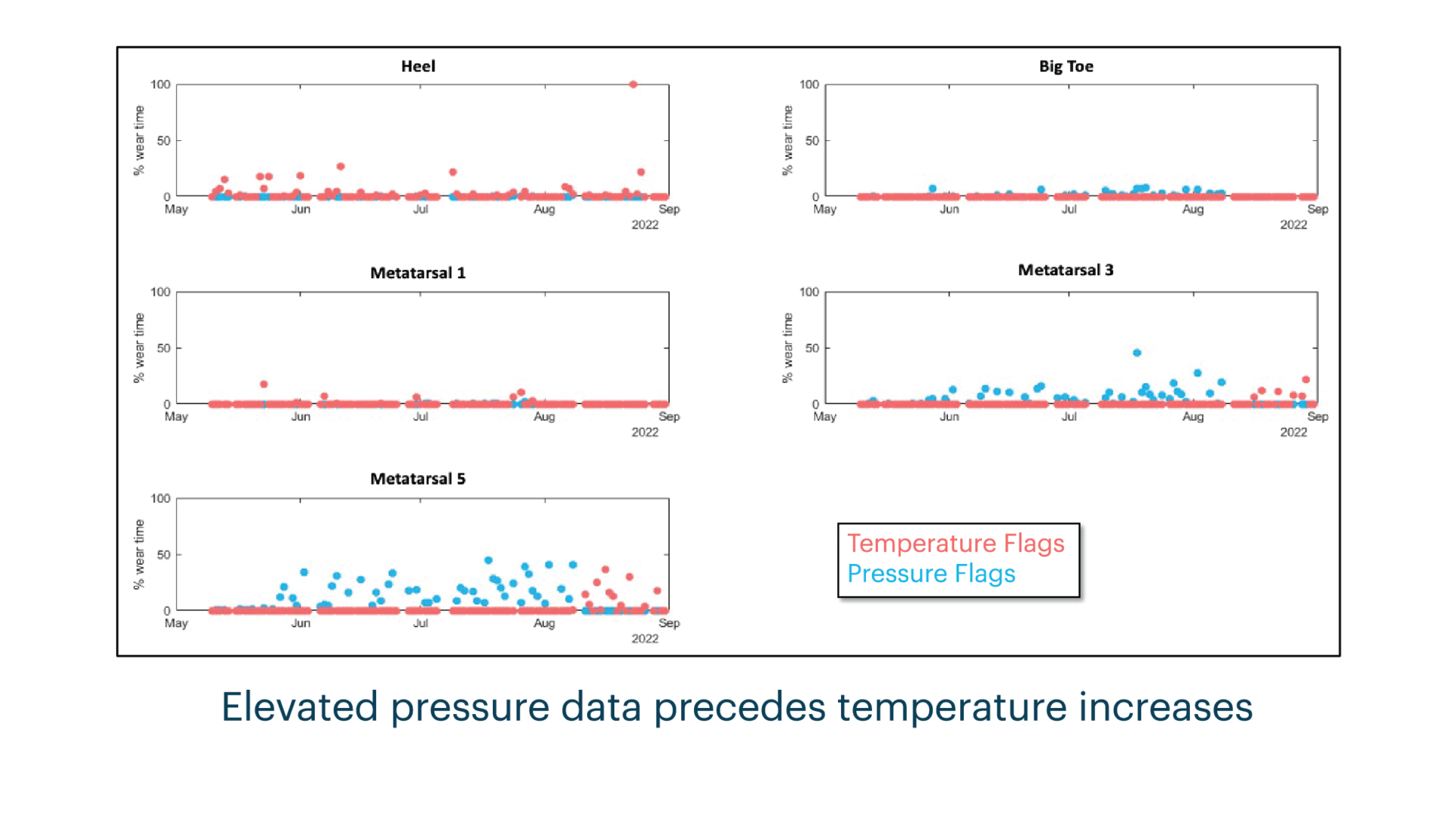 Innovative plantar sensory insoles to prevent foot ulcer recurrence and guide treatment plans in patients with diabetic peripheral neuropathy¹²
Out of the 17 patients who used the sensory insole system, one withdrew and one developed a DFU. On average, patients used the system for 4.7 hours daily and increased usage over time. Wearing the insoles with real-time alerts improved patients' awareness of activities that put them at risk of developing wounds, and communication with providers increased. This system can provide early intervention for at-risk patients, preventing more serious complications. Providers now have more information and can proactively intervene before a wound develops.
Reduce the cost of diabetes management through continuous care
The rising cost of diabetes management is a challenge, with over $237 billion spent in the U.S. and one third of that dedicated to diabetic foot.13 Orpyx SI Sensory Insoles offer a solution to help prevent complications and focus on continuous care.
Proven through clinical trials and peer-reviewed studies, the Orpyx SI Sensory Insole system is the only comprehensive platform that empowers patients to improve their foot health with real-time alerts, remote patient monitoring, and patented sensor technology. Orpyx can effectively manage the cost of DFU treatments and improve patient engagement and outcomes.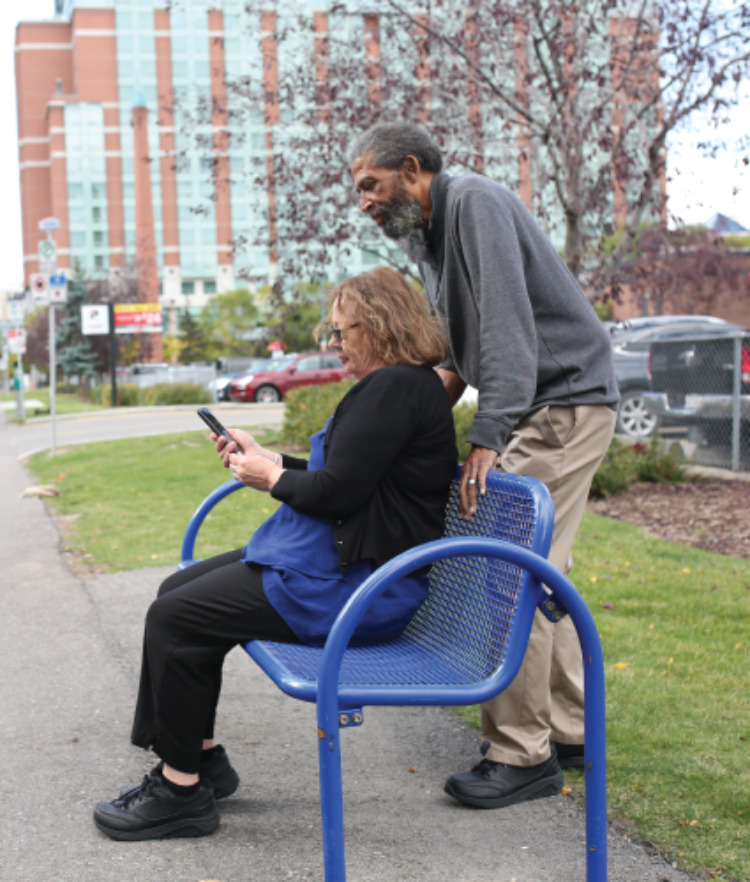 1. Centers for Disease Control and Prevention: https://www.cdc.gov/diabetes/l... 2. Centers for Disease Control and Prevention: https://www.cdc.gov/chronicdis... 3. Rowe, Vincent Lopez, Medscape, Diabetic Foot Ulcers. https://emedicine.medscape.com... 4. Armstrong D.G., Swerdlow M.A., Armstrong A.A., Conte M.S., Padula W.V., Bus S.A. Five year mortality and direct costs of care for people with diabetic foot complications are comparable to cancer. J Foot Ankle Res. 2020 Mar 24;13(1):16. doi: 10.1186/s13047-020-00383-2 5. Oliver T and Mutluoglu M, Diabetic Foot Ulcer. StatPearls Publishing. https://www.ncbi.nlm.nih.gov/b... 6. David G. Armstrong, D.P.M., M.D., Ph.D., Andrew J.M. Boulton, M.D., and Sicco A. Bus, Ph.D. Diabetic Foot Ulcers and Their Recurrence. N Engl J Med 2017;376:2367-75. 7. APMA, Diabetic Wound Care. https://www.apma.org/diabeticw.... 8. International Working Group on the Diabetic Foot: Diabetes and the Feet 9. Hicks CW, Selvarajah S, Mathioudakis N, et al. Trends and determinants of costs associated with the inpatient care of diabetic foot ulcers. Journal of Vascular Surgery https://doi.org/10.1016/j.jvs.... 10. Abbot CA, et al. Innovative intelligent insole system reduces diabetic foot ulcer recurrence at plantar sites: a prospective, randomised, proof-of-concept study. Lancet Digital Health Oct. 2019; 1: e308–18. *Study was conducted with first generation SurroSense Rx® which has the same pressure algorithm as Orpyx SI Sensory Insoles 11. Najafi B et al, Cost effectiveness of smart insoles in preventing ulcer recurrence for people in diabetic foot remission. Wound Care Management (2018) Volume 1(1): 5-7. 12. Liden et al. Innovative Plantar Sensory Insoles to Prevent Foot Ulcer Recurrence and Guide Treatment Plans in Patients with Diabetic Peripheral Neuropathy. Poster presented at SAWC Fall; Oct 14-16, 2022; Las Vegas, NV 13. Edmonds M et al, The current burden of diabetic foot disease. Journal of Clinical Orthopaedics and Trauma (2021) Volume 17: P88-93.