Clinical evidence
The research behind the technology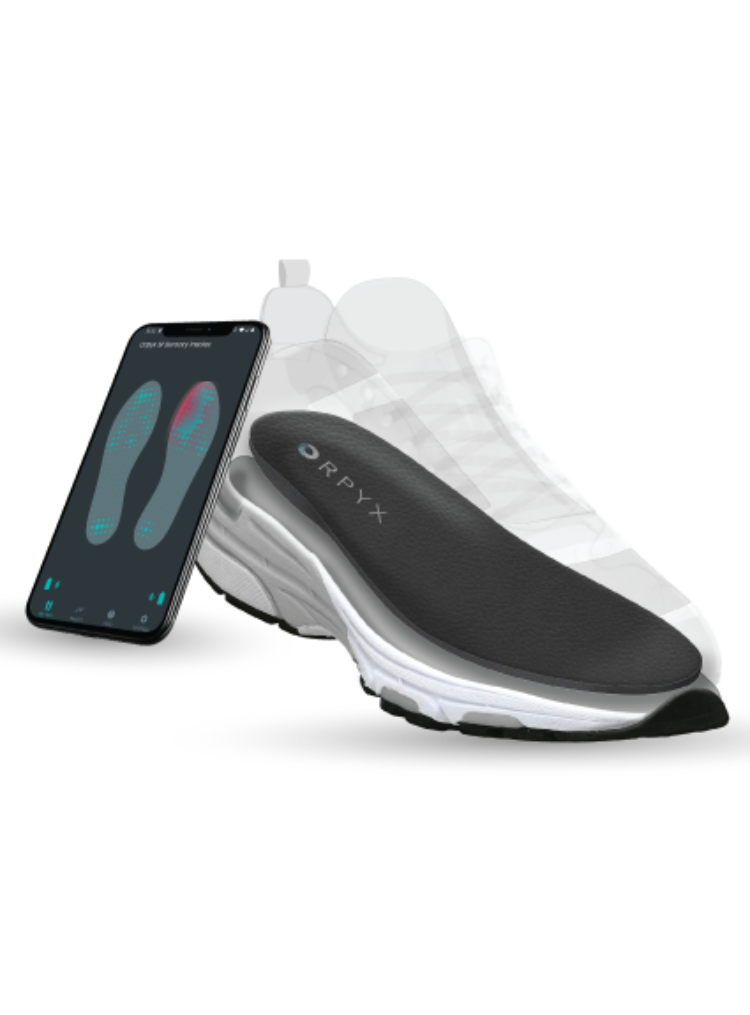 A recent study demonstrated an 86% reduction in diabetic foot ulcer recurrence when the Orpyx SI technology* was worn 4.5+ hours per day¹
The results of this randomized controlled trial showed that the intervention group who received pressure alerts (n=18) were 71% less likely to develop recurrent foot ulcers compared to their control counterparts who did not receive pressure feedback (n=22). A subgroup of patients that wore the sensory insoles greater than 4.5 hours a day were 86% less likely to re-ulcerate. 
*Study was conducted with first generation SurroSense Rx® which has the same pressure algorithm as Orpyx SI Sensory Insoles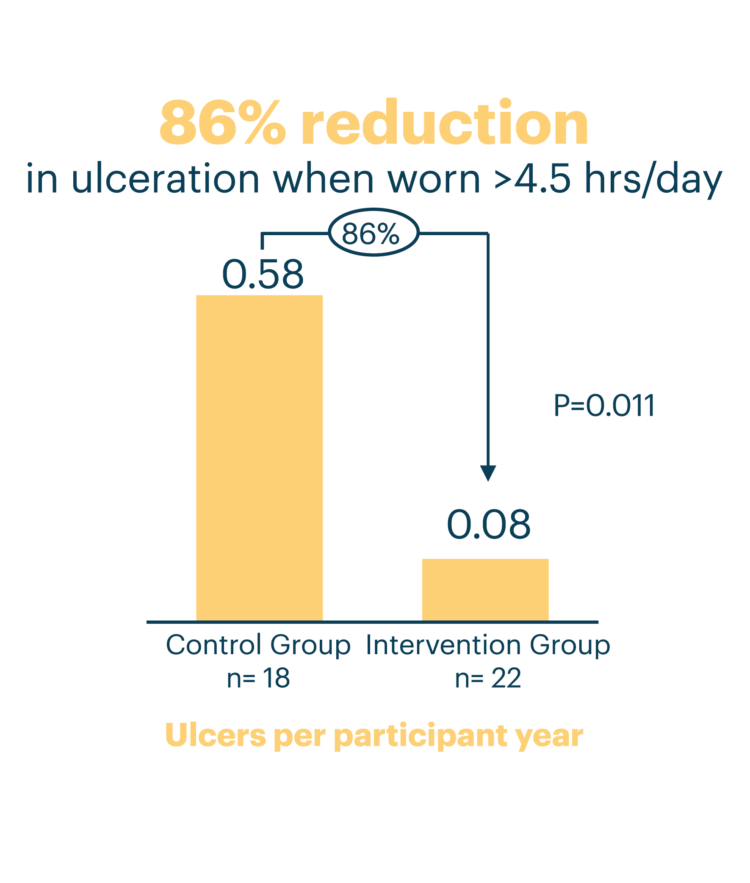 A peer-reviewed study showed a drastic decrease in the occurrence of foot ulcers and a substantial cost savings when using SOC + Orpyx technology² 
This study compared the results of the prevailing standard of care (SOC) against the SOC applied in conjunction with the Orpyx SI technology. Comparative cost of care was calculated over short-term (3 months) and long-term (18 months) periods. These results reflect an 83.72% decrease in event occurrence over 3 months, a 77.42% decrease in event occurrence over 18 months, and a 70% overall reduction in cost of care.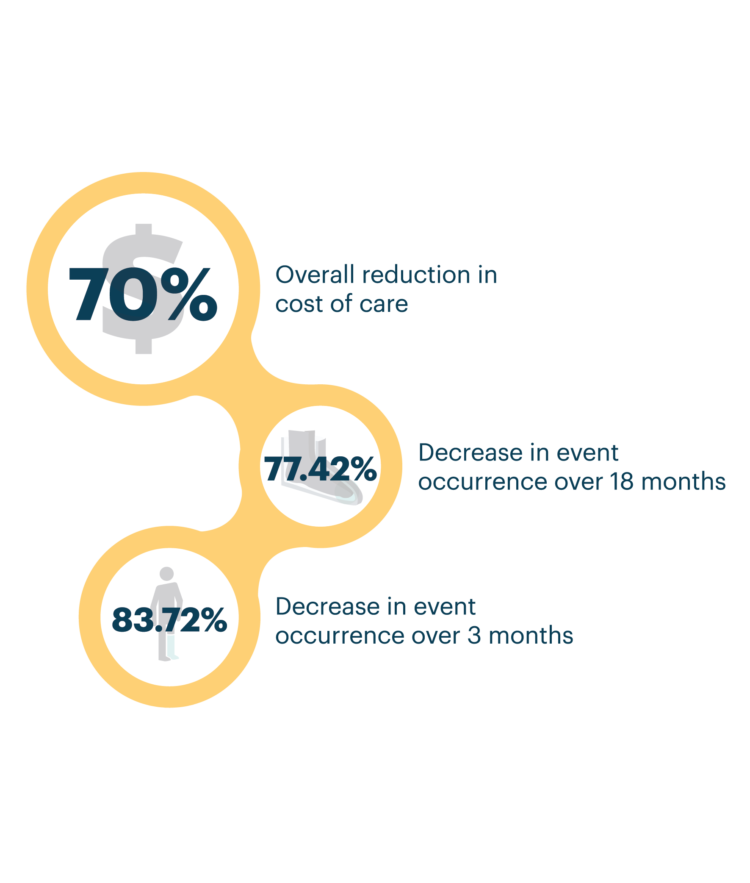 Patient case series: Clinicians can use sensory technology + RPM to provide early intervention for DFU development³
This case series examines the use of Orpyx SI® Custom sensory insoles and RPM in patients at risk of DFU formation. The use of the sensory insoles and RPM provides clinicians with newly available plantar data (pressure, temperature, step-count, and hours of use) to help inform and guide treatment plans. The case examples highlight how sensory technology + RPM can be utilized by clinicians to provide early warning signs and reduce the risk of tissue breakdown. This allows clinicians the opportunity for early intervention for at-risk patients, preventing more serious complications from occurring.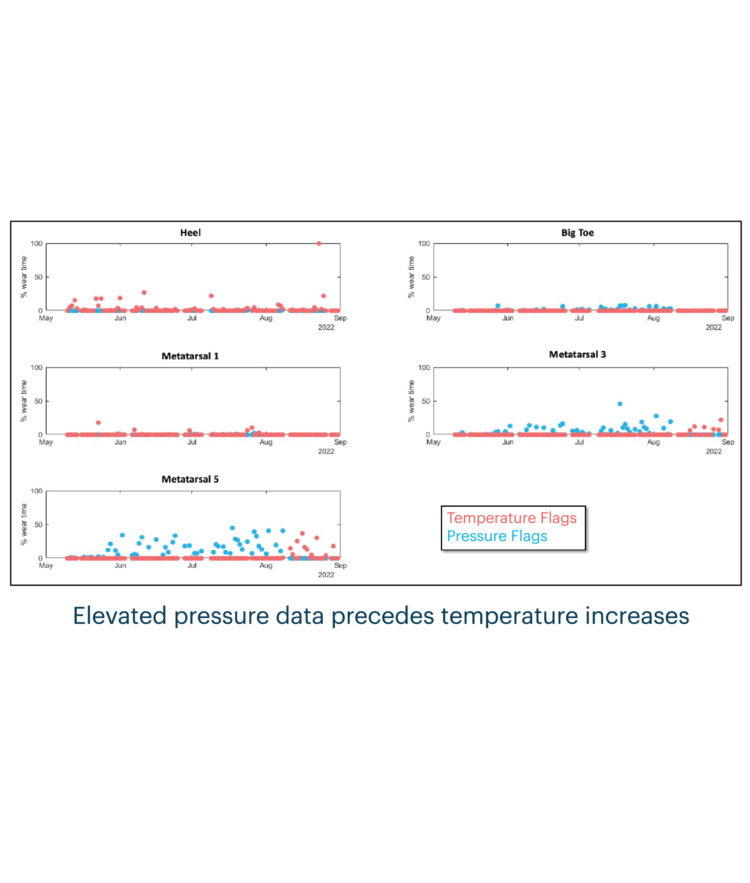 Preventative Sensor-Based Remote Monitoring of the Diabetic Foot in Clinical Practice
Sensor-based remote patient monitoring (RPM) offers a transformative approach to proactive foot health and active lifestyles for people living with diabetes. It identifies pre-ulcerative conditions early, preventing serious complications. A practical framework for integrating RPM into clinical practice and DFU prevention regimens has been developed based on the authors' experiences with sensor-based RPM. By assessing physiological and behavioral data from various factors like pressure, temperature, and activity, RPM enhances DFU management. It complements comprehensive disease management, optimizing glycemic control and reducing cardiovascular risk through activity monitoring, prescription, and motivational interviewing based on sensor data. Empowering patients to take control of their health.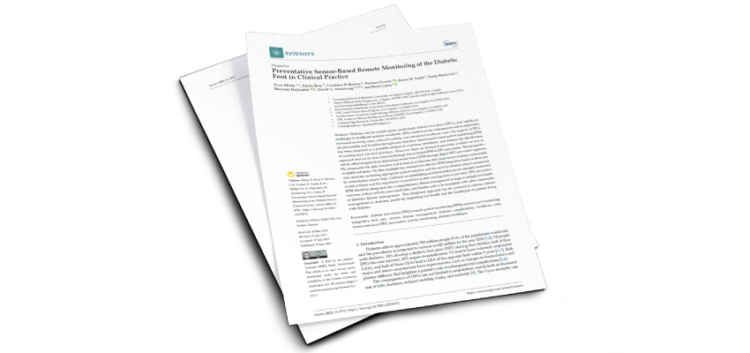 Clinical evidence
Orpyx clinical research
Innovative intelligent insole system reduces diabetic foot ulcer recurrence at plantar sites: a prospective, randomised, proof-of-concept study. Abbott et al (2019)​
Cost effectiveness of smart insoles in preventing ulcer recurrence for people in diabetic foot remission. Najafi et al  (2018)​
Smarter Sole Survival. Najafi et al (2017)​
A Foreign Body Through the Shoe of a Person with Diabetic Peripheral Neuropathy Alters Contralateral Biomechanics. Chatwin et al (2018)​
Use of the SurroSense Rx System for Sensory Substitution of the Insensate Plantar Aspect Resurfaced with Latissimus Dorsi Muscle Free Flap and Skin Graft: A Retrospective Case Study. Everett et al (2017)​
Novel Pressure-Sensing Smart Insole System Used for the Prevention of Pressure Ulceration in the Insensate Foot: A Case Report. Alfonso & Chiu (2017)​
Validation of Plantar Pressure Measurements for a Novel In-Shoe Plantar Sensory Replacement Unit. Ferber et al (2013)
Plantar pressure
The Role of Pressure Offloading on Diabetic Foot Ulcer Healing and Prevention of Recurrence. Bus S. (2016)
In-shoe pressure thresholds for people with diabetes and neuropathy at risk of ulceration: a systematic review. Jones et al (2021)
The role of foot pressure measurement in the prediction and prevention of diabetic foot ulceration – a comprehensive review. Chatwin et al. (2019)
Thermometry
Home Monitoring of foot skin temperatures to prevent ulceration. Lavery et al (2004)​
Preventing diabetic foot ulcer recurrence in high-risk patients. Lavery et al (2007)​
Skin temperature monitoring reduces the risk for DFU in high-risk patients. Armstrong et al (2007)
Step count and activity
Physical Activity/Exercise and Diabetes: A Position Statement of the American Diabetes Association. Colberg et al (2016)
Variability in activity may precede diabetic foot ulceration. Armstrong et al (2004)
Novel Award 2002: comparison of physical activity and cumulative plantar tissue stress among subjects with and without diabetes mellitus and a history of recurrent plantar ulcers. Maluf & Mueller (2003)
Relationship between changes in activity and plantar ulcer recurrence in a patient with diabetes mellitus. Lott et al (2005)
Encouraging reduction of activity amongst patients with diabetic foot ulcers. Gray et al (2018)
Weight-bearing
Effect of weight-bearing activity on foot ulcer incidence in people with diabetic peripheral neuropathy: feet first randomized controlled trial. LeMaster et al (2008)
Weight-bearing versus non-weight-bearing exercise for persons with diabetes and peripheral neuropathy: a randomized controlled trial. Mueller et al (2013)
Daily weight-bearing activity does not increase the risk of diabetic foot ulcers. LeMaster et al (2003)
Diabetic foot ulcers
International Working Group for the Diabetic Foot (IWDGF) Guidelines.
Guidelines on the prevention of foot ulcers in persons with diabetes (IWGDF 2019 update). Bus et al (2020)
Risk factors for plantar foot ulcer recurrence in neuropathic diabetic patients. Waaijman et al (2014)
Measuring Plantar Tissue Stress in People With Diabetic Peripheral Neuropathy: A Critical Concept in Diabetic Foot Management. Lazzarini et al (2019)
Tissue adaptation to physical stress: a proposed "Physical Stress Theory" to guide physical therapist practice, education, and research. Mueller & Maluf (2002)
1. Abbott CA, et al. Innovative intelligent insole system reduces diabetic foot ulcer recurrence at plantar sites: a prospective, randomised, proof-of-concept study. Lancet Digital Health Oct. 2019; 1: e308–18. *Study was conducted with first generation SurroSense Rx® which has the same pressure algorithm as Orpyx SI Sensory Insoles 2. Najafi B et al. Cost effectiveness of smart insoles in preventing ulcer recurrence for people in diabetic foot remission. Wound Care Management (2018) Volume 1(1): 5-7. 3. Liden et al. Innovative Plantar Sensory Insoles to Prevent Foot Ulcer Recurrence and Guide Treatment Plans in Patients with Diabetic Peripheral Neuropathy. Poster presented at SAWC Fall; Oct 14-16, 2022; Las Vegas, NV